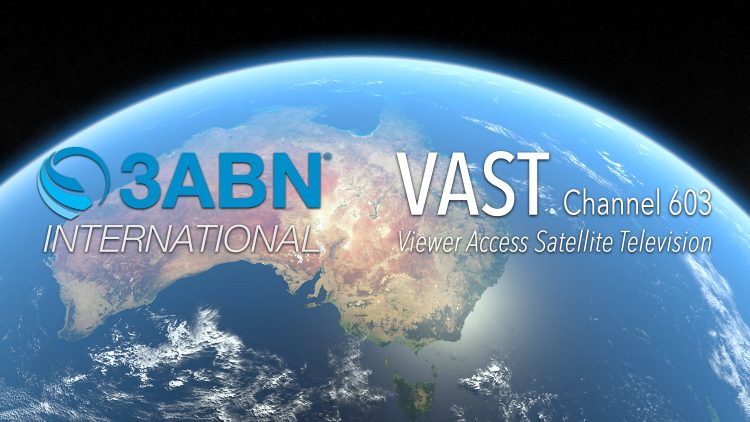 This story, written by 3ABN Australia's General Manager, John Malkiewycz, recounts the miracle that saw 3ABN International added to the line-up of networks on the VAST satellite platform in Australia.
---
Jesus' Gospel commission in Matt 28:19 begins, "Go ye therefore and teach all nations …" and today the same call is close to all our hearts. Nations are growing and Australia is no exception. Australia is a vast country of 7.692 million square kilometres, a population of nearly 25 million. Much of that population is located in the major cities but there are many who live in rural communities that need to learn about God.
In 2016 3ABN Australia was going through a time of financial uncertainty. So the staff turned to God in prayer each day and witnessed God answer our prayers in a miraculous way that strengthened our faith.
As the General Manager, I felt that, because God was blessing, we needed to do more and reach a bigger audience. So, one Monday in February 2017, I prayed and asked God for His direction in how to reach more people with 3ABN. The next day I asked again and continued to work and wait, not knowing if and when He would respond. On the third day, after staff worship, I came to the office and my phone rang. It was a gentleman from Tasmania, whom I had not spoken to for some time. I asked him how he was, and his family, and he went on to ask, "have you considered VAST?" and said that 3ABN should be on there. I said I had been aware of VAST in 2010 when it was in its infancy, but never thought about it much after that.
As he began to tell me about the number of homes on VAST and how it was growing I suddenly remembered my prayer. I had to interrupt him and ask why he had called me at this particular time and not some other day. "I just felt impressed to call you now." He had no idea what I had been asking God but I knew this was an incredible answer to my prayer.
He then continued to tell me it would cost a lot of money to be on VAST. But that did not deter me in anyway as I knew God was leading. He gave me the number of the Optus sales specialist, in Satellite Sales, so I could call him.
As I finished the call from Tasmania I felt a sense of urgency and, as I passed Rosemary's office, I told her we were going to go on VAST. By the way, VAST stands for Viewer Access Satellite Television. The Australian Government provides the service to people around Australia who cannot access ABC or SBS (Australia's public broadcasting services) and the commercial networks, through a normal TV antenna. This service is growing currently by up to 800 homes per week. I thought, "what would it be like to have 3ABN on VAST alongside ABC, SBS and the other channels?" Yes, Lord, this is amazing!
The story now becomes even more intriguing as I was restless and felt a need to call Optus. As I introduced myself, and the 3ABN Network, the gentleman listened. When I asked if we could go on the VAST network he said it would be possible. Again the issue of money came up and he asked if I knew about the high cost, and he queried our ability to pay to broadcast on the Optus C1 satellite for television. He mentioned that others had enquired and, once they heard the cost, they never came back. He thought we would be the same. It was almost discouraging, but that didn't deter me so I asked for a quotation based on what I thought we needed.
I contacted Moses Primo when I received the quote and he helped me understand what it all meant and what we would need. Thanks to Moses, it became more affordable as I negotiated with Optus. When I presented the idea to the 3ABN Committee, they were united in going forward and having 3ABN on VAST.
I have to say, even before my initial prayer, God was preparing the way. For over ten years 3ABN Australia has been paying to broadcast on the Optus D2 satellite, which has been our greatest expense. To pay for another satellite during that time would have doubled our expense and I would have thought it impossible to afford.
What happened was nothing more than God doing what He does best. That is, arranging things that show what He can do when we allow HIM to be in control. In December 2016 our contract for Optus D2 came up for renewal. As Moses Primo negotiated with the company, we were able to secure a new contract price for 3ABN for considerably less than previously and we praised God for this blessing.
Now, here is how our amazing God works. Six months later, when we were finalising the contract for VAST, the saving we had from the Optus D2 satellite was nearly all that was needed to pay for 3ABN to be on the Optus C1 Satellite. I still shake my head and can only say, "God is good, all the time!" Now we were on two satellites for little more than what we had previously paid for one.
It becomes even more incredible! In the same month of December 2016, the Federal Government of Australia passed new legislation regarding contracts between large Corporations and small businesses. A small business is defined as less than 20 employees, and 3ABN Australia fits into that category.
In the past, large businesses employed a team of lawyers to draw up contracts in legal terms that could be used to the disadvantage of a small business, simply because the latter group had not understood all the legal terms because they couldn't afford lawyers for this work.
So, when it came to our contract and, as we are a small business, Optus now had to have their lawyers draft a new contract that complied with the new legislation. I was a little amazed and humoured with how long it took to complete a contract that could be understood by a layman! Eventually a draft arrived that we could read.
It still wasn't easy, but with the help of other staff, a barrister who supported 3ABN, and Moses Primo, we went through the contract.
When it came to program content, and some other issues, I felt we couldn't sign it. So, I spoke with Optus and was asked to list the areas of concern then their lawyers would look at the contract again. This is again how God works! The contract was altered! This enabled us to proceed and, by faith, sign the contract, leaving the rest with God.
This now meant we would need to install equipment at the Optus site in Sydney, NSW. God blessed us again with this. Even when the equipment we purchased did not function according to the manufacturer's specifications, Optus helped 3ABN Australia until new equipment arrived.
3ABN International network began airing on the VAST platform on July 1, 2017, reaching some 308,000 homes across Australia on channel 603, and this was growing at a rate of hundreds of new homes each week.
If you think that's it, there is still more. Once we were on air I thought we needed to let people know and we produced new 3ABN leaflets for distribution, which included information about VAST.
Now, watch what God does in helping people to know about His network. After we had been on air for a short time, the Optus representative called and informed me that their management had decided to send a press release1 across Australia, to inform people that 3ABN, a new Christian lifestyle network, was now on channel 603 on VAST.
"Thank you Lord!" Does it end? No, because we have begun to hear from viewers who are finding 3ABN on VAST and how God's Word is reaching into new areas across Australia.
Indeed, this has been a story that continues to unfold showing there is a God who answers prayers and who wants people to know Him. Jesus makes it clear in John 17:3, "And this is life eternal, that they might know thee the only true God, and Jesus Christ, whom thou hast sent."
Thank you, Lord, for hearing and answering prayer. May the Holy Spirit impress people to support 3ABN so that others can come to know You while there is still time and they can be ready for Jesus' soon return.
by John Malkiewycz
---
1 Press Release: Optus Satellite increases VAST offering with new customer 3 Angels Broadcasting Network