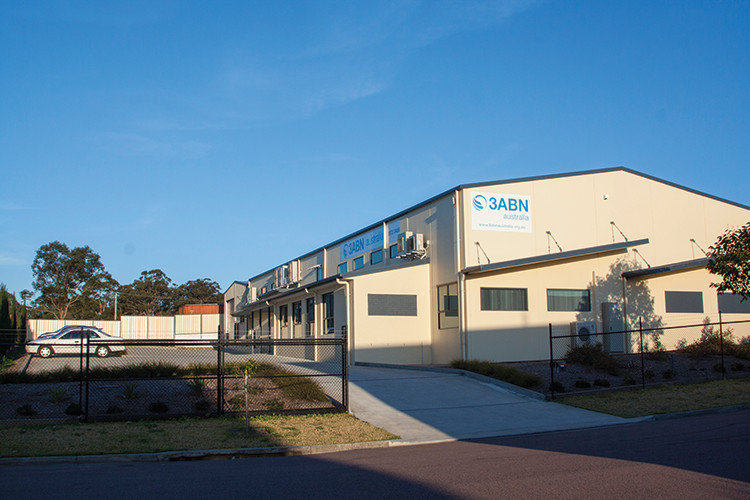 In 2006, 3ABN President Danny Shelton visited Australia. He saw that there was a need to build a production centre in Australia, and that it should be on the east coast where there was more opportunity. 3ABN Australia was based in Western Australia at the time, and its capital city, Perth, is the most isolated capital city in the world.
Immediately, 3ABN Australia's co-directors, John and Rosemary Malkiewycz, started the search for a property on Australia's east coast. Finally, they settled on a property in Morisset, NSW, close to the Seventh-day Adventist Church's tertiary education institution, Avondale College. Plans were then drawn for the production centre. This process, including government approvals, took a number of years, and finally on February 7, 2011, construction began.
Although the offices were completed in mid-2012, the official opening did not occur until April, 2013. The service featured 3ABN personalities, J.D. and Shelley Quinn, Moses and Adima Primo, as well as Pr Justin Lawman, President of the North New South Wales Conference of Seventh-day Adventists. Pr J.T. Knopper, who spoke at the property dedication and thanksgiving meetings prior to construction, lead out with the opening prayer. Following the service, the studios were officially opened and those in attendance enjoyed the opportunity for a special tour of the building.
Since this time, we have started producing a number of programs including:
3ABN Now, our flagship interview program with John & Rosemary Malkiewycz
A Day With the King (Children's Series)
Let God Speak with Pr Mike Browning & team
Healthy Living with Margot Marshall, Dr John Clark, and health psychologist Jennifer Skues
Focus on God's Word with Pr Geoff Youlden and youth evangelist Charissa Fong
and various other productions.
We praise God for what He was done for us through this time, and thank Him for His help. We also would like to thank those who donated time and resources to us to help us complete this project. These include:
Michael Ludlow (Prince Certifiers) – building certification
Ross Wells – CAD
Christopher Healy – hydraulic design
Darran Clark – earthworks
Dorothy Mills and Allyson Allen – set designers and decorators
Roxley Vollrath and Adrian Kavur – plumbing supplies and labour
Marko Balaž – internal glass, mirrors, and kitchen splashback
Marvin Waldrip – external windows and glass doors
Ivan and Smilja Kitevski, Constan and Rodika Ionita, Les and Lela Debelec – painting
Rodney Butler – electrical engineering diagrams
David Fisher, Brian Gall and Peter Dawes – electrical work
Philip Lindsay – electrical contracting
Mick and Vesna Milivojevic (VMM Group) – cleaning products and floor treatments
Daniel Hope – graphic design
James Hope – studio video design and construction
Peter Thomas – studio audio design and construction
Philip and Averil Groom – gardening, cleaning, and various other jobs
Procson Pty Ltd – lecturn for preaching programs