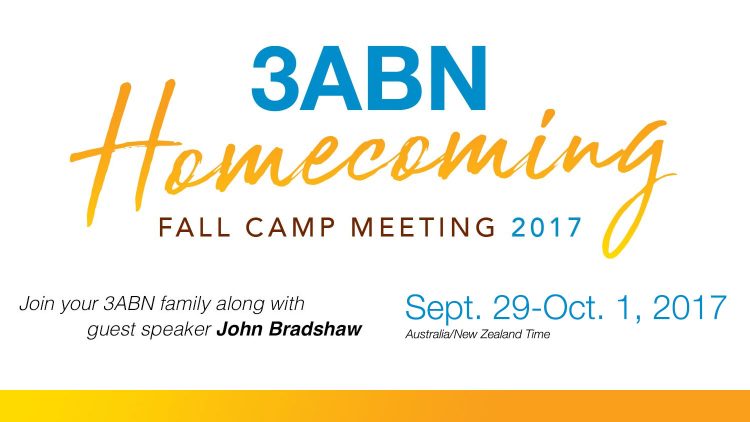 SPECIAL LIVE EVENT
Friday, 29th September to Sunday 1st October, 2017 (Australia/New Zealand Times)
We're excited to announce this year's Fall Camp Meeting! Join your 3ABN family along with guest speaker John Bradshaw, plus an amazing testimony by Little Richard. You won't want to miss these exciting messages.
Following are the scheduled air times for the LIVE programs. This information is correct at time of publication and is subject to change without notice. The repeat schedule is not available at this time.
Time (AEST)
(AEDT) *
Topic
Speaker

Friday 29/9

10–11 am
Welcome/Music
11 am–12 pm
Bible Questions Panel
12–1 pm
Sacrifice
John Bradshaw

Sabbath 30/9

Mdnt–1 am
 The Sanctity of Suffering
CA Murray
1–2 am
 Artificial Embellishments
Kenny Shelton
2.30–3.30 am
 Quicksand
John Lomacang
5.30–6.30 am
 With All My Heart
 Shelley Quinn
10–11 am
Ministry Reports/Music Hour
11 am–12 pm
Friday Afternoon
John Bradshaw

Sunday 1/10

12.30–2 am
Sabbath School Panel
2–4 am
3–5 am *
Divine Service
Personal Testimony
"Little Richard"
5.30–6 am
6.30–7 am *
N.A.P.S. Report
6–7 am
7–8 am *
Dark Moments
John Bradshaw
9–10 am
10–11 am *
Testimonies/Music
10–11 am
11 am–12 pm *
Satisfied
John Bradshaw
Times in first column are Australian Eastern Standard Time (UTC+10). Please convert for your time zone (WA – 2 hr, SA/NT, – 30 mins, NZ + 3 hr).
* Daylight saving starts on Sunday morning at 3 am (2 am AEST). Please use the second column for times in Victoria, Tasmania, ACT, and New South Wales (Subtract 30 mins for South Australia).