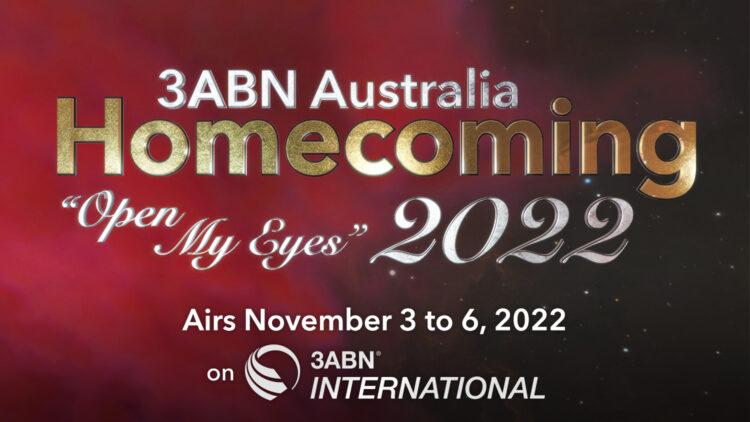 SPECIAL BROADCAST EVENT
Thursday, 3rd November to Sunday 6th November, 2022 (Australia/New Zealand Times)
This year, 3ABN Australia Homecoming 2022 will be broadcast on 3ABN International. This year's theme "Open Our Eyes", based on Psalm 119:18. There are 14 sermons from various speakers that you will not want to miss!
All of these programs will air from Thursday, 3rd November to Sunday 6th November, 2022. The broadcast times are listed below.
This information is correct at time of publication and is subject to change without notice.
Broadcast times for 3ABN Australia Homecoming 2022
Thursday, November 3, 2022
6:00 pm "God On Trial" – Pr Geoff Youlden
7:00 pm "There's No One Like Him" – Charissa Torossian
Friday, November 4, 2022
7:00 pm "A Reason to Believe" – Pr Kyle Allen
8:00 pm "Creation—Is It True?" – Pr Barend Nieuwstraten
Saturday, November 5, 2022
10:00 am "Grace in the Old Testament" – Rod Butler
11:00 am "Who Is Jesus Anyway?" – Dr Sven Östring
2:00 pm "Jesus in the Sanctuary" – Pr Marty Thomson
3:00 pm "The Greatest Hoax" – Blair Lemke
6:00 pm "How Do I Know I Am Saved?" – Pr Marty Thomson
7:00 pm "The Eternal Law of God" – Pr Justin Torossian
Sunday, November 6, 2022
9:00 am "Jesus, The Light of the World" – Pr Mike Browning
10:00 am "The Origin of Our Faith" – Pr Stephen Duncan
11:00 am "Hell—The Real Truth About A Hot Topic" – Pr Danny Milenkov
12:00 pm "God's Will Be Done" – Dr Erika Puni
All times Australian Eastern Daylight Time (UTC+11). Please convert for your time zone (WA – 3 hr, SA – 30 mins, NT – 1.5 hr, QLD – 1 hr, NZ + 2 hr).