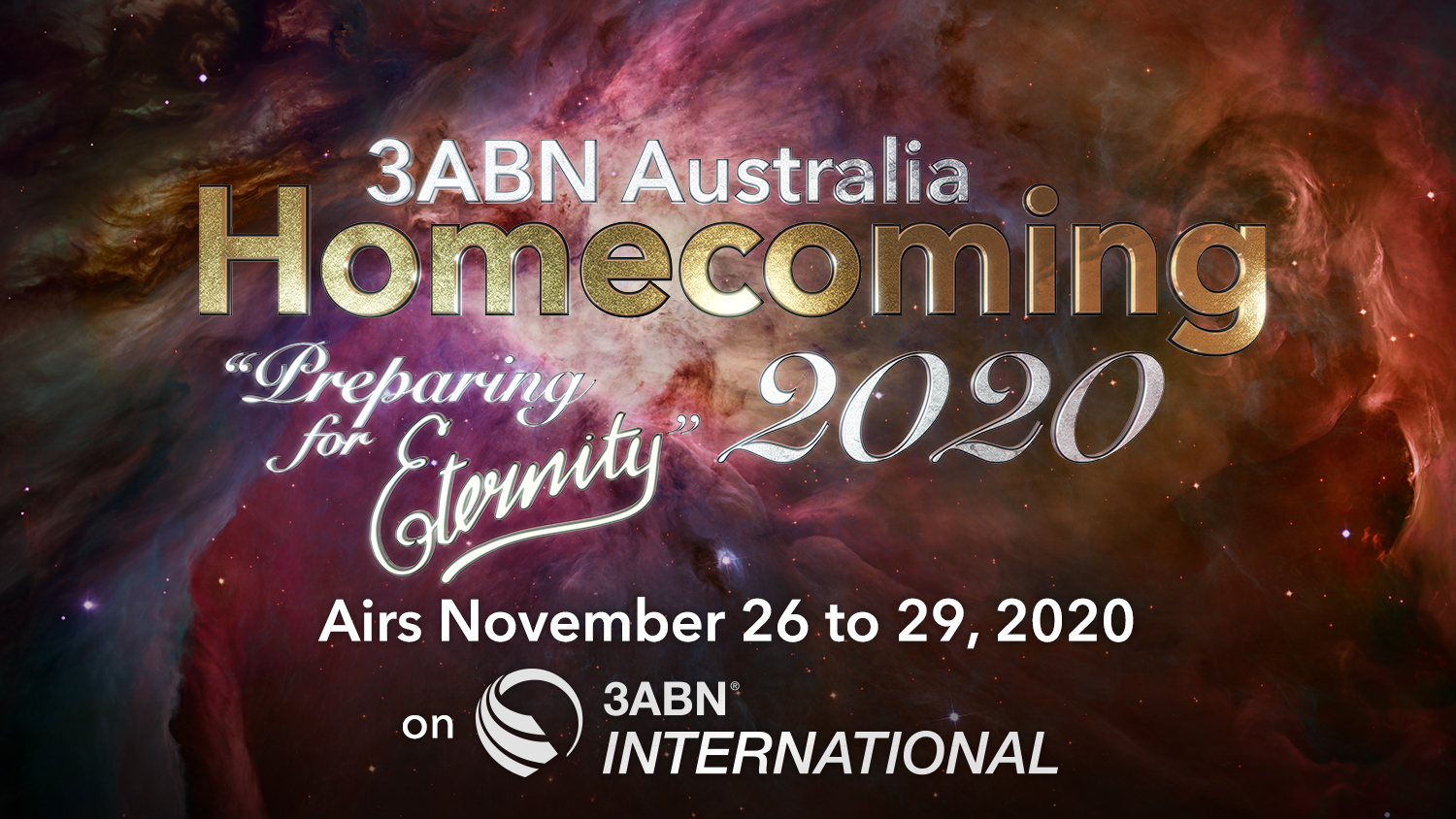 SPECIAL BROADCAST EVENT
Thursday, 26th November to Sunday 29th November, 2020 (Australia/New Zealand Times)
This year, 3ABN Australia Homecoming 2020 will be broadcast on 3ABN International. With the theme, "Preparing for Eternity", this series covers the book Steps to Christ in 13 power-packed sermons. You will not want to miss them!
All of these programs will air from Thursday, 26th November to Sunday 29th November, 2020. The broadcast times are listed below.
This information is correct at time of publication and is subject to change without notice.
Broadcast times for 3ABN Australia Homecoming 2020
Thursday, November 26, 2020
6:00 pm "God's Love for Man" – Dr Sven Östring
7:00 pm "The Sinner's Need of Christ" – Pr Mike Browning
Friday, November 27, 2020
7:00 pm "Repentance" – Pr Danny Milenkov
8:00 pm "Confession" – Pr David McKibben
Saturday, November 28, 2020
10:00 am "Consecration" – Pr Abel Iorgulescu
11:00 am "Faith and Acceptance" – Pr Justin Torossian
2:00 pm "The Test of Discipleship" – Pr Peter Watts
3:00 pm "Growing Up Into Christ" – Pr Geoff Youlden
6:00 pm "The Work and the Life" – Pr Lyle Southwell
7:00 pm "A Knowledge of God" – Pr Adrian Raethel
Sunday, November 29, 2020
9:00 am "The Privilege of Prayer" – Charissa Torossian
10:00 am "What to Do with Doubt" – Blair Lemke
11:00 am "Rejoicing in the Lord" – Pr Marty Thomson
All times Australian Eastern Daylight Time (UTC+11). Please convert for your time zone (WA – 3 hr, SA – 30 mins, NT – 1.5 hr, QLD – 1 hr, NZ + 2 hr).