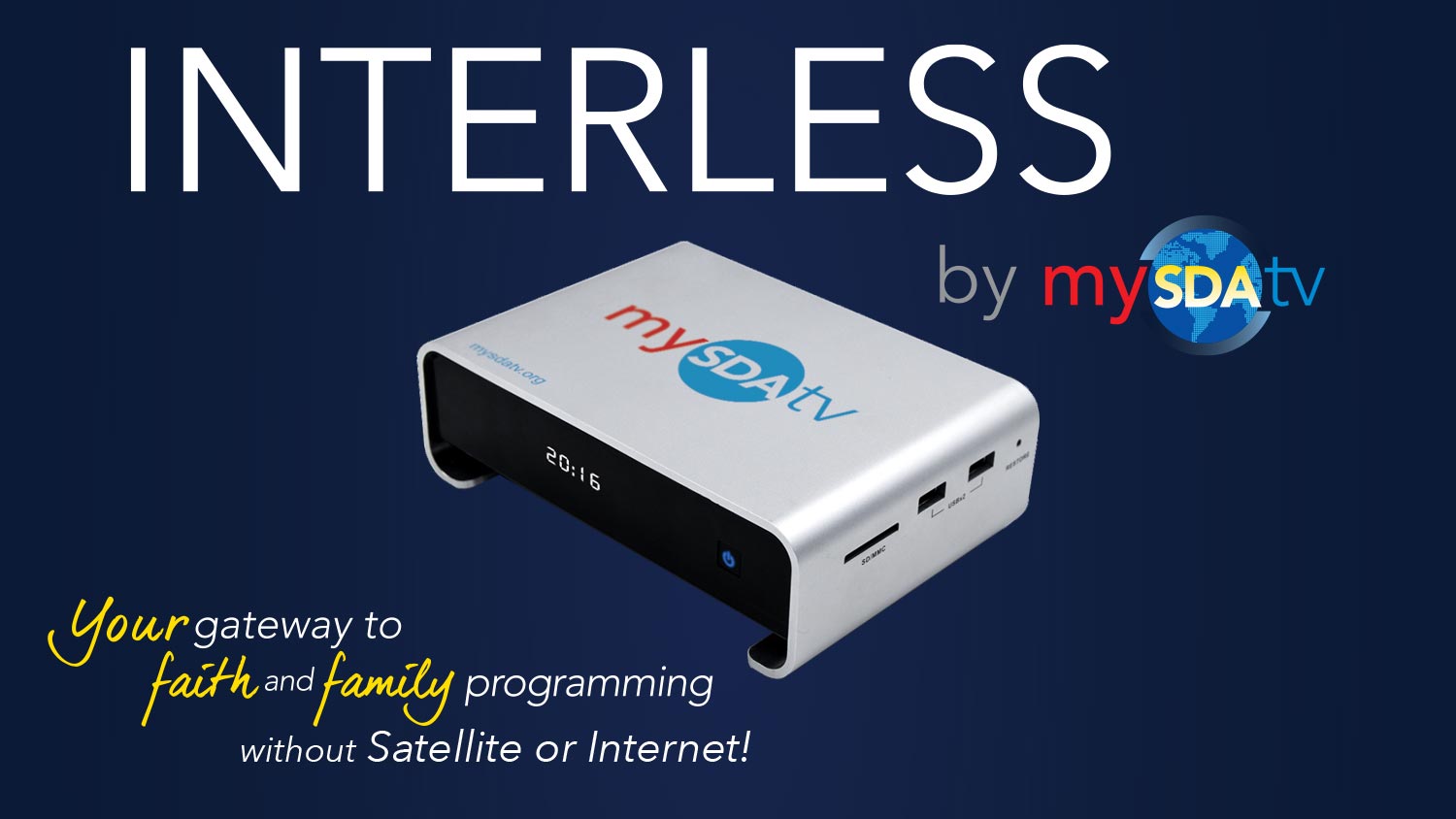 We're excited to announce that the INTERLESS by mySDAtv box is now available in Australia! With this device you have an incredible source of spiritual blessings at your fingertips. With over 4,000 3ABN programs, you can choose what you want to watch, when you want to watch it. All you need is electricity, a TV and INTERLESS.
The INTERLESS box was first developed specifically with the people in the Pacific Islands in mind. As 3ABN is not available on satellite over the south Pacific, and Internet can be expensive for many islanders, this box came into being. We are hoping that people in Australia and New Zealand will choose to help get INTERLESS into the islands by sponsoring boxes for this purpose.
We have since found many more uses for INTERLESS. These include:
General viewing and personal spiritual growth;
Spreading the Gospel to family, friends, neighbours, workmates and local communities;
Weekly prayer meetings, small groups, and Sabbath afternoon church meetings;
Sabbath sermons for small church congregations;
Health/cooking evangelism, as well as exercise––both personal and group––at a time convenient for you;
Children's groups;
SDAs in non-SDA aged care can have 3ABN programming anytime, and enjoy sermons on Sabbath again;
Use it in a caravan without needing a satellite dish;
Small enough to take with you when you travel.
INTERLESS is available for only AU$385.00, plus postage. Buy one for yourself, family or friends––and don't forget the island people. To purchase INTERLESS call us on (02) 4973 3456 during office hours, or order from our online store anytime (for answers to questions see our INTERLESS FAQ page).
If you would like to donate towards INTERLESS boxes for the South Pacific Island nations (excluding New Zealand), you may do so as follows:
Visit our donate page, select the "Donate" button under the Online heading, and then click the button beside "INTERLESS for the South-Pacific Islands"; or
Call us on (02) 4973 3456
We look forward to hearing from you!
"Go ye therefore, and teach all nations, baptizing them in the name of the Father, and of the Son, and of the Holy Ghost: Teaching them to observe all things whatsoever I have commanded you: and, lo, I am with you always, even unto the end of the world. Amen." Matthew 28:19, 20