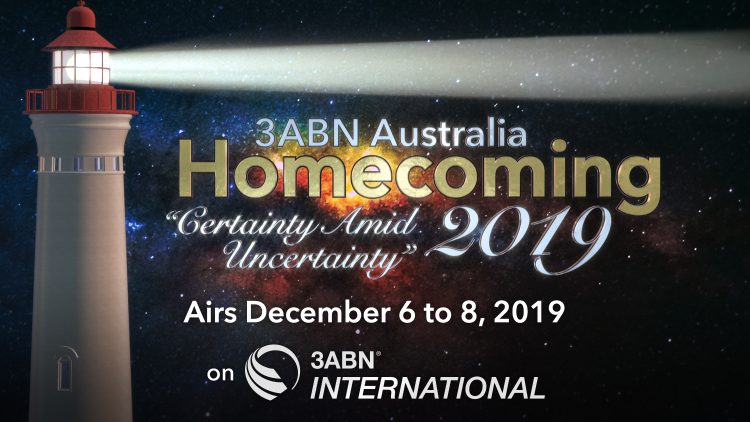 SPECIAL BROADCAST EVENT
Friday, 6th December to Sunday 8th December, 2019 (Australia/New Zealand Times)
Last month, we held our 3ABN Australia Homecoming 2019 event at Wahroonga Seventh-day Adventist Church in Sydney, NSW. With the theme, "Certainty Amid Uncertainty", it featured 9 power-packed sermons from local speakers and a concert on the Saturday night. Those who attended have told us that it was a wonderful blessing for them!
All of these programs will air on 3ABN International from Friday, 6th December to Sunday 8th December, 2019. The broadcast times are listed below. You won't want to miss these programs!
This information is correct at time of publication and is subject to change without notice.
Broadcast times for 3ABN Australia Homecoming 2019
Friday, December 6, 2019
7:00 pm "Let's Investigate the Judgment" – Pr Geoff Youlden
8:00 pm "Lest We Forget" – Pr Danny Milenkov
Saturday, December 7, 2019
11:00 am "The Year That Changed the Modern World" – Pr Geoff Youlden
2:00 pm "A Certain Voice in Uncertain Times" – Dr Allan Lindsay
3:00 pm "Evolution Impossible – The Evidence" – Dr John Ashton
4:00 pm "Who Are the Healthiest Populations On Earth?" – Dr Ross Grant
7:00 pm Concert – Local Musicians
Sunday, December 8, 2019
9:00 am "The Ultimate Rescue" – Pr David McKibben
10:00 am "Can the Dead Really Live Again?" – John Malkiewycz
11:00 am "Into Eternity" – Pr Justin Torossian
All times Australian Eastern Daylight Time (UTC+11). Please convert for your time zone (WA – 3 hr, SA – 30 mins, NT – 1.5 hr, QLD – 1 hr, NZ + 2 hr).